Mr. Blue Sky Named One of the Top Classic Songs of All-Time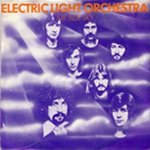 Sold on Song, a BBC Radio 2 site dedicated to classic songs, covers, songwriting and more, recently took a poll to determine the top 100 classic songs of all-time.
"Mr. Blue Sky", a worldwide hit from ELO's
Out of the Blue
and background music to numerous movie soundtracks and television ads since, came in at number 18.
Featuring an infectious beat and lavish orchestration, "Mr. Blue Sky" is the eternal song of hope and joy which closes out the "Concerto for a Rainy Day" suite on side three of the album.
"It was dark and misty for two weeks," songwriter Jeff Lynne later recalled, "and I didn't come up with a thing. Suddenly the sun shone and it was 'Wow, look at those beautiful Alps.' I wrote 'Mr Blue Sky' and 13 other songs in the next two weeks."
To learn more about "Mr Blue Sky", or better yet to listen to it, visit the
song page
.
Sally Bacchetta - Freelance Writer
Music
Traveling Wilburys
Freelance Writer